On Thursday 8th August 2019 Withers Progress Association Inc. held their AGM followed by a General Meeting for this month. This covered the re-election of Executive Committee members for further two year tenure as well as events that happened throughout the year.
Many topics and events that were covered in the AGM were:
Re-election of Executive Committee members for further two year tenure
Finances
Events that happened throughout the year
Toilet block at the Des Ugle park by December this year.
Snap Send Solve app – Easy and efficient way to notify local councils, utilities or other authorisation of issues that need addressing in your community. Reporting graffiti, abandoned trolleys and damaged property
Dedicated office space for the Withers Progress Association Inc.
Bitz and Pieces Craft group
Purchase of trailer and technology needs
Webpage and Facebook, media team
Merchandise
Workshops and events attended by the committee
Secretary Tammy Hermon for her tireless work in all things secretarial, branding, stationary, contacting, mail, advertising and other tasks carried out.
Treasurer Carol Rhodes for keeping us in line, managing the budget for the year, grant writing, paying bills and community contacts throughout the year. Networking and making connections around the community to inform and share services.
Assistant Chair Karen Turner for starting the Neighbourhood Watch Online in Withers, contacts through the City of Bunbury, promoting the Withers Progress Association group and campaigning for the upcoming City of Bunbury elections. Working in other areas to help promote the Withers community and sorting many years of historical items donated by Ron Fitch. Karen attended many community events this year.
Chairperson Mary Dunlop attended many community events and fundraisers; all Don Punch's information workshops, training sessions provided by grants, Volunteer Southwest and City of Bunbury, sausage sizzles, hosted Information / Community nights on the Withers Hub project.
We would like to thank the members and everyone who has helped and supported the Withers Progress Association Inc. We would also like to thank the organisations and businesses that have supported us with our events and fundraisers.
Many topics and events that were covered in the General Meeting were:
Money balance
City of Bunbury grant
New members joining the group
Social Inclusion & Disability Awareness Workshop
Risk Management workshop at Volunteer Southwest
Upcoming sausage sizzle dates 31st August and September 22nd
Volunteers for FODUP committee – date for meeting to be set
Dedicated office space for the Withers Progress Association Inc.
Print for shirts and vests – Uniform and merchandise
Estimated budget for FODUP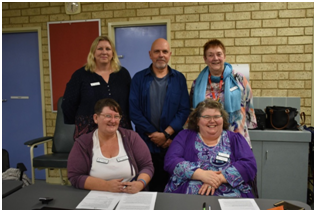 Assistant Chair Karen Turner, City of Bunbury Councillor Brendan Kelly, Chairperson Mary Dunlop Secretary Tammy Hermon and Treasurer Carol Rhodes