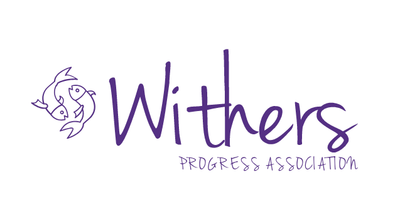 Withers Progress Association Inc. is easing back to pre-Covid days but still will be following Covid-19 safety practices - 1.5m social distancing, hand hygiene and staying at home if unwell. Our Committee will however still be available via email or messages if you have any concerns or queries for us.


Withers Progress Association Inc. is a not for profit organisation. We run events and meet monthly to enjoy guests speaking on a variety of topics.
We organise and run the Friends of Des Ugle Park Christmas Fair each November. We fund raise by way of sausage sizzles to help keep the costs to a minimum for our community events. Combined with some regular sponsors and partners, this all helps us continue to do what we do for the community.
We bring together many in our community and help to link people who may be experiencing challenges or difficulties, with assistance for their particular issue.
#loveWithers